The Fusion Furnace is a special type of furnace added by the Fusion Plugin. It is required to make alloys, and uses its own special recipes. The process of creating alloys in the Fusion Furnace is called "fusing" or "fusion", and as its name suggests, it turns two items into one or more.
| Item | Crafting Recipe |
| --- | --- |
| Fusion Furnace | |
The Fusion Furnace is used to create alloys by combining 2 different metal ingots and a catalyst.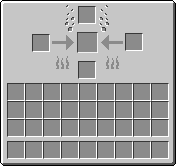 The left most slot and right most slots are input slots. These are where you put the ingredients that you want to fuse together, such as a Copper Ingot and a Tin Ingot. It does not matter which side you put each in. 
The bottom slot is the fuel slot. The Fusion Furnace accepts any fuels that the normal furnace can use. 
The top slot is the catalyst slot. This is where you put an item that helps the reaction go through. Each alloy will have a number of different catalysts that can be used to produce a new "chunk" of differing sizes. The catalyst is consumed in the process.
The final, center slot, is the output slot. This is where your new material will appear once the reaction is complete.
There are currently four tiers of alloys: Steel, Bronze, Thyrium, and Sinisite. The first will be available even if only Fusion is installed. The other three will only be available if SimpleOres is also installed. Within those alloys, there are three sizes of chunks: small, medium and large. A large chunk is the most cost-effective and efficient way of produce an alloy, while small chunks are the least cost-effective. Different numbers of each chunk size are required to produce the final Ingot. 
To find the specific Fusion recipes for each alloy, see their respective pages above. However, here are three examples showing each alloy and each size:
...
Community content is available under
CC-BY-SA
unless otherwise noted.